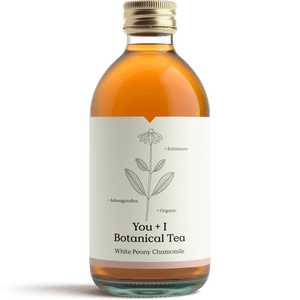 Brewed with organic white peony tea, soothing chamomile flowers and a healthy dose of herbal echinacea and adaptogenic ashwagandha.
330ml.
Tasting Notes: Subtle floral fruitiness, with honeyed herbal tea.
All Natural Ingredients:
Filtered water, cane sugar*, white peony tea*, chamomile*, echinacea*, ashwagandha*, ascorbic acid.
* Organic.

Nutritional Info Per 100ml:
Energy: 25KJ/6Kcal, Fat: 0g of saturates 0g, Carbs: 2.9g of sugars 2.9g, Fibre: 0g, Protein: 0g, Salt: 0g.